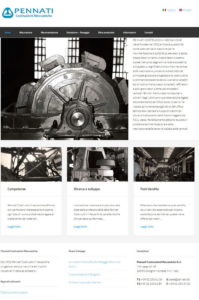 After a long and laborious process, Pennati Costruzioni Meccaniche publishes the new english site, now in its third edition.
The registration of the site dates back to the distant year 2000 while the first publication in 2006, an eternity for the rhythms of the web.
The pennati.it site is transformed once again to adapt to the times, with a more modern graphic design, also suitable for mobile devices, tablets and cell phones.
The English version, after the Italian one, has been converted to the new standard to adapt to changes that not only affect the aesthetics and readability of the site but also the usability of the content in general.
Each product sheet now has its specific form for requesting information, the table contents have been revisited to be more easily accessible by interested visitors.
The company's productions are all online and easily accessible, divided according to their type, Grinding, Handling, Extraction and other productions.
Pennati Costruzioni Meccaniche is close to celebrating its century and demonstrates, even with the website, that it knows how to keep up with the times.
The evolution mainly concerns the machines produced: from 1922 to today, technology has made enormous strides, as well as the needs of customers and it is also for this reason that Pennati C.M. dedicates a significant portion of its investments to design, research  and development: the Research and Development office is the flagship of the company.
An eye to the future without forgetting one's origins, this could be the description of the company philosophy. Also demonstrated by the facts: the news is recent that a Pennati Birullo Mill has celebrated 60 years of honored career, a nice goal and a great success for one of the machines of which Pennati is rightly proud and a clear testimony of how important it is for the after sales assistance, an added value recognized and appreciated by all Pennati CM customers.