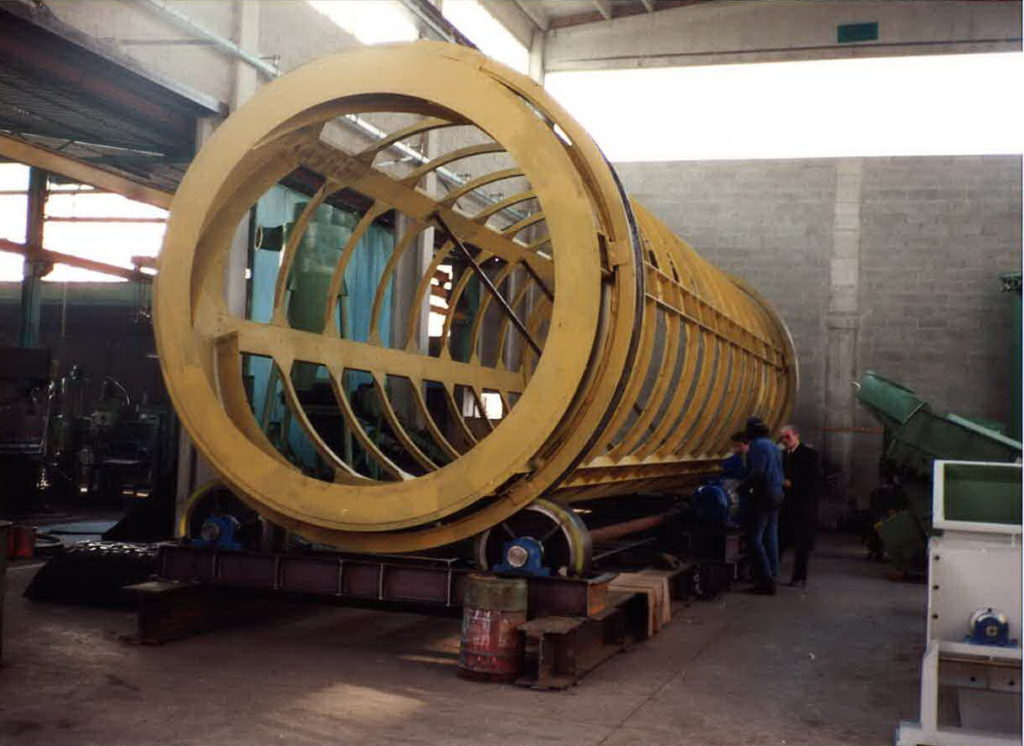 Our rotary screen features a rotating drum on a horizontal axis.
It is used for course screening of many different products, even those with a high moisture content, and of varying characteristics and sizes, which may be non-homogenous, and in all those cases where vibrating screens are not suitable.
Screening is achieved by passing the product over a perforated plate type screen or screens. There may be one screen or several, of ever decreasing diameters.
The overflow is discharged by gravity and then naturally conveyed to a bottom collecting hopper.
Product feed is guaranteed by declining the rotating axis of the drum, which can be varied by means of a suitable hydraulic system.
The screen casing is made of series of sturdy steel sections, welded onto a pair of rings which serve to support the rotating circular beams.
The two rings divide the screen into four parts, of which two are outside the rings and two inside.
At each end there is a welded steel section, which has the dual function of sealing off the sections, which make up the cylindrical casing, and of fixing the perforated plates on the inside.
The two external rotating circular beams form a single body with the cylindrical structure of the screen and have a "U" shaped section, with the uprights turned outwards within which the rubberized support rollers move.
Axial thrust is provided by a rubber coated roller which is positioned perpendicular to the screen.
The technical features and performances available with this machine make the rotary screen a very versatile, sturdy and reliable machine.
References for rotary screens
| Quantity | DIA / Lenght (MM) | Product | Capacity (T/h) |
| --- | --- | --- | --- |
| 1 | 1.650 x 5.000 | Solid waste residuals | 2 |
| 1 | 2.000  x  6.000 | Solid waste residuals | 3.8 |
| 1 | 3.000  x  12.000 | Solid waste residuals | 14 |
| 2 | 2.650  x  6.000 | Solid waste residuals | 5 |
| 1 | 2.000  x  6.300 | Solid waste residuals | 4 |
| 1 | 2.500  x  10.000 | Solid waste residuals | 5 |