The Birullo style mill (twin roller) is used to grind various types of very fine materials and minerals, such as coal, petroleum coke, talc, gypsum, oxides and phosphorites.
It crushes by compression and can achieve high throughput (up to 15 tonnes per hour); product size is achieved by a dynamic selection system built into the mill.
Crushed product is discharged by a pneumatic conveying system.
The standard machine is provided with a filter for the separation of the aeriform phase from the solid phase (crushed product) and an exhaust fan which keeps the entire line under suction.
The PLC control automatically regulates incoming feed rates and main process parameters.
The Birullo mill is available in four different sizes based on the required throughput.
Features
Grinding rollers in Ni-hard cast iron alloy, mounted on roller bearings force-need oil lubricated.
Track in crom-hard cast iron alloy, divided into 4 parts.
Possibility of grain size adjustment by means of dynamic selector driven by frequency inverter.
There is no reciprocal contact between the grinding rollers and the track; there is always a certain space between them, that is held by some proper spacing; the distance can be changed in such a way as to remain the same as the consumption increases.
The rollers rotation is due to the friction of the material only.
There is the contemporary drying of the wet materials, by hot air.
Working is completely automatic; the feeding is driven by electronic equipment.
The pneumatic circuit is in suction, in order to avoid any dust.
Models & sizes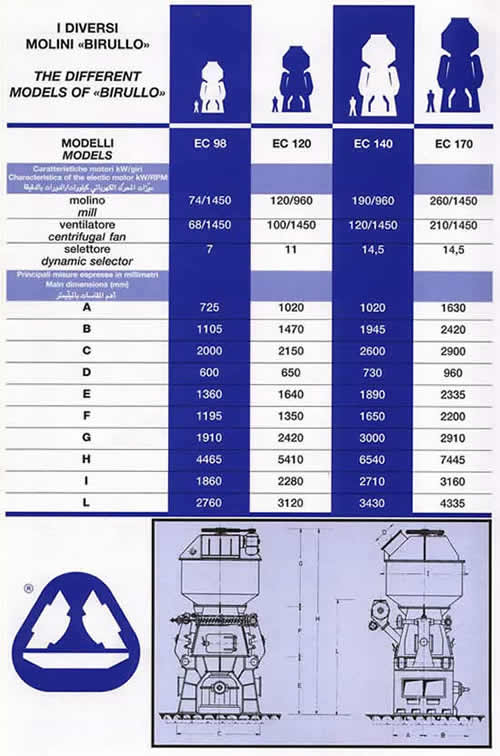 How does it work
The raw material gets into the mill through the inlet charge in the pos. 1, and falls on the rotating track in the pos. 2, that is driven by the gear reduction unit in the pos. 3. The material insinuates under the grinding rollers in the pos. 4 (idle on the shafts integral with rocker arms in the pos. 5) and causes them to turn and grind. During grinding, the rollers rotate and swing integral with the arms in the pos. 5, having their fulcrum in the hinges of the pos. 6. The swinging is opposed by the springs in the pos. 7. Through the opening in the pos. 8, air is sucked into the mill and lifts all grinded material up to the rotating dynamic selector in the pos. 9. Coarse grinded material is re-cycled by the selector and falls down to the track, then it is further on refined, while the finest grain size is sucked pneumatically through the air intake in the pos. 10. The rotary selector speed can be adjusted by the inverter in the MCC, and it changes the RPM of the electric motor in the pos. 11.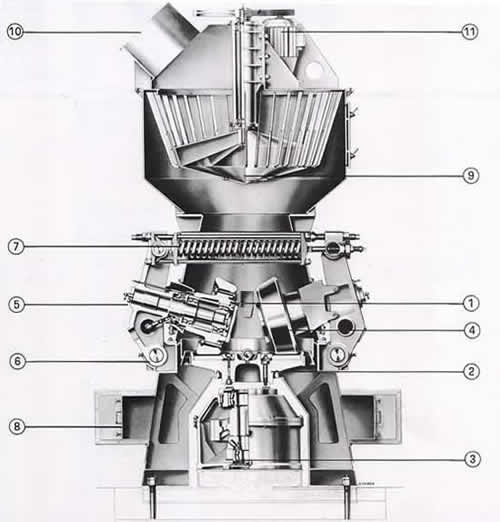 References list of fine pulverization Plants by "Birullo" Mill
| PLANT LOCATION | Units No. | Type | CAPACITY ton/h each | Product |
| --- | --- | --- | --- | --- |
| Saudi Arabia | 1 | EC 170 | 17 | Baryte |
| Puerto Madryn - Argentina | 1 | EC 140 | 13 | Petroleum coke |
| Fusina - Italy | 1 | EC 98 | 7 | Petroleum coke |
| Bolzano - Italy | 1 | EC 98 | 2 | Petroleum coke |
| Balangero - Italy | 4 | EC 170 | 60 | Serpentine |
| Balangero - Italy | 2 | EC 98 | 4 | Serpentine |
| Vado Ligure - Italy | 2 | EC 98 | 7 | Phosphorite |
| San Celoni - Italy | 1 | EC 98 | 2 | Calcium carbonate |
| Brindisi - Italy | 1 | EC 140 | 20 | Phosphorite |
| Arsiero - Italy | 1 | EC 98 | 2 | Bentonite |
| Trino Vercellese - Italy | 1 | EC 98 | 3 | Coal |
| Barletta - Italy | 1 | EC 98 | 4 | Coal |
| Pescara - Italy | 1 | EC 98 | 4 | Coal |
| Pescara - Italy | 1 | EC 140 | 15 | Marn |
| Collebeato - Italy | 1 | EC 140 | 11 | Marn |
| Collebeato - Italy | 1 | EC 170 | 16 | Marn |
| Sassoferrato - Italy | 2 | EC 98 | 6 | Marn |
| Pederobba - Italy | 1 | EC 140 | 15 | Marn |
| Riva Sul Garda - Italy | 1 | EC 140 | 13 | Marn |
| Trino Vercellese - Italy | 1 | EC 140 | 15 | Marn |
| Trino Vercellese - Italy | 1 | EC 170 | 25 | Marn |
| Tavernola Bergamasca - Italy | 2 | EC 98 | 4 | Coal |
| Tavernola Bergamasca - Italy | 1 | EC 140 | 11 | Marn |
| Bilbao - Espana | 1 | EC 98 | 4 | Coal |
| Marone - Italy | 1 | EC 98 | 3 | Dolomite |
| Ascoli Piceno - Italy | 1 | EC 120 | 5 | Oil coke |
| Ascoli Piceno - Italy | 2 | EC 98 | 3 | Oil coke |
| Narni - Italy | 2 | EC 98 | 2 | Oil coke |
| Larderello - Italy | 2 | EC 98 | 8 | Colemanite |
| Porto Marghera - Italy | 3 | EC 98 | 5 | Magnesite |
| Ozzano Monferrato - Italy | 1 | EC 140 | 14 | Marn |
| Sala Al Barro - Italy | 1 | EC 140 | 11 | Lime |
| Bilbao (Spagna) | 1 | EC 98 | 2 | Calcium carbonate |
| Monte Marciano - Italy | 1 | EC 98 | 10 | Phosphorite |
| Solignano - Italy | 1 | EC 98 | 2 | Coal |
| Mettur - India | 1 | EC 98 | 2 | Oil coke |
| Bolzano - Italy | 1 | EC 98 | 2 | Ferrosilicon |
| Bolzano- Italy | 1 | EC 80 | 2 | Lime |
| Este - Italy | 1 | EC 98 | 3 | Metal oxides |
| Crotone - Italy | 2 | EC 98 | 7 | Phosphorite |
| Porto Empedocle - Italy | 1 | EC 140 | 20 | Phosphorite |
| Porto Empedocle - Italy | 2 | EC 98 | 6 | Phosphorite |
| Orbetello- Italy | 1 | EC 98 | 6 | Phosphorite |
| Piano D'Orta - Italy | 1 | EC 98 | 10 | Phosphorite |
| Porto Marghera - Italy | 5 | EC 98 | 8 | Phosphorite |
| Romano Lombardo - Italy | 1 | EC 98 | 9 | Phosphorite |
| Pamplona - Espana | 1 | EC 98 | 7 | Phosphorite |
| Giovenzano - Italy | 1 | EC 98 | 2 | Calcium carbonate |
| Valencia - Espana | 1 | EC 98 | 4 | Coal |
| Lanzo Torinese - Italy | 1 | EC 98 | 3 | Talco |
| Sestri Ponente - Italy | 1 | EC 98 | 5 | Hydrated lime |
| Targia - Italy | 1 | EC 140 | 13 | Marn |
| Lugagnano - Italy | 1 | EC 140 | 13 | Marn |
| Cartagena - Colombia | 2 | EC 98 | 8 | Lime |
| Genova - Italy | 1 | EC 140 | 12 | Calcium carbonate |
| Tavernola Bergamasca - Italy | 1 | EC 98 | 3 | Marn |
| Lauriano - Italy | 1 | EC 140 | 13 | Marn |
| Livorno - Italy | 2 | EC 98 | 2 | Talc |
| Figueras - Espana | 2 | EC 98 | 2 | Talc |
| Riyad - Saudi Arabia | 1 | EC 170 | 12 | Calcium carbonate |
| Fabriano- Italy | 1 | EC 120 | 4 | Calcium carbonate |
| Nocara Umbra - Italy | 1 | EC 170 | 12 | Calcium carbonate |
Grain size diagrams
TYPICAL SIZE DISTRIBUTION OF CALCIUM CARBONATE PULVERIZED by BIRULLO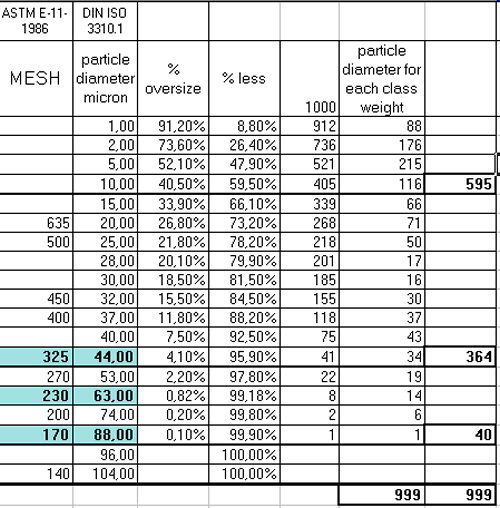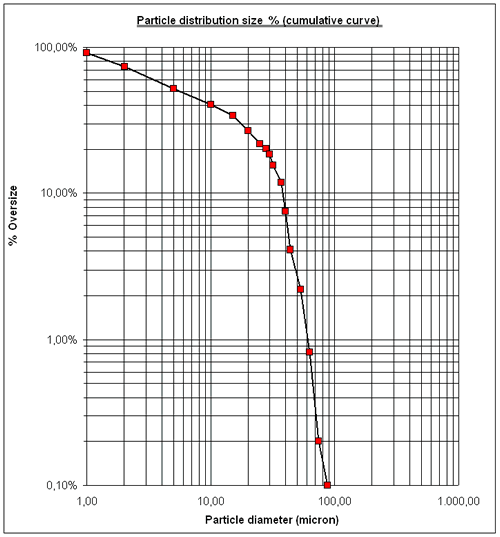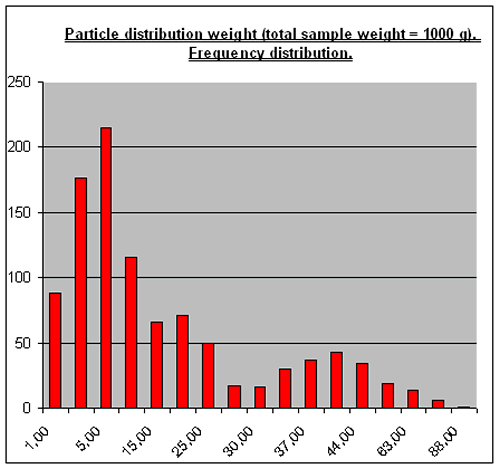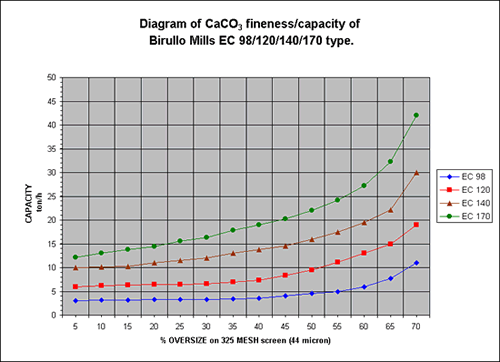 Typical installations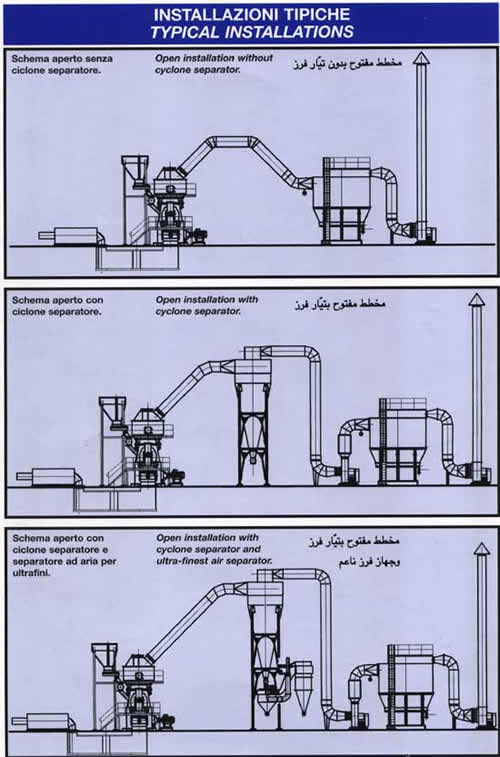 Pictures